Clicks has just been named finalist in two categories of the TALiNT International Annual Recruitment Awards (TIARAs). The TIARAs recognise excellence, innovation, and growth in the recruitment industry.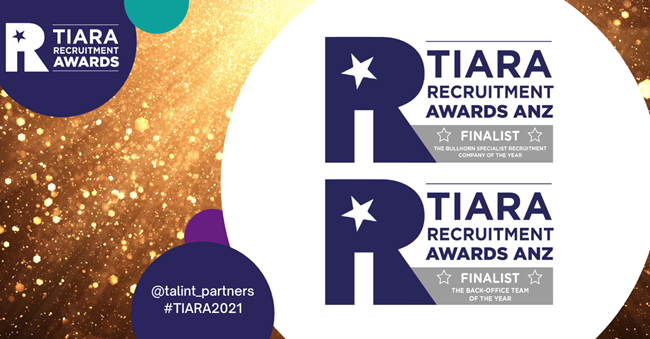 We are thrilled to be shortlisted in the categories of Specialist Recruitment Company of the Year and the Back-Office Team of the Year. This recognition highlights the efforts of our leadership and client-facing teams as well as those who work behind the scenes to support them.
"We are proud that our continued growth and evolution has been recognised by our peers. This is really a testament to our people and the exceptional outcomes they consistently deliver for our clients, contractors, candidates and each other." said Ben Wood, Managing Director of Clicks.  
"Our people are critical to our success. That's why it's been important for us to create a workplace that they feel proud to be part of and that provides all the tools and support for them to be successful," said Sam Micich, Clicks' General Manager, Operations. "We invest heavily in our staff's learning and development along with smart technology. Our Enterprise Systems Transformation and Business Process Optimisation programs of work have really helped our team to work more productively. This has also supported work-life balance and improved the day-to-day experience of doing their job. I think that's why we have such strong retention and engagement rates. 50% of our employees have been with us for five years or more."
We would like to thank all our clients, contractors, and candidates in the IT industry whom we have worked with through the years. Our team strives for excellence and continues to innovate to best support you. Congratulations to all the TIARA award finalists. We look forward to joining the best recruitment businesses in Australia and New Zealand at the virtual Awards Ceremony next month when the winners will be announced.
Clicks specialises in IT recruitment. Our recruiters average 12 years of industry experience, and we're on over 80 Preferred Supplier Agreements. As Australia's favourite IT recruiters, we can help you find top talent, fast! For any hiring needs please reach out to your Clicks Account Manager or 1300 CLICKS for a confidential discussion.