Market Research
Better informed decisions lead to better outcomes. Clicks' research team publishes a range of reports to help our customers hire better. Get insights from hundreds of Australian employers on market trends, salary data, diversity strategies and more.
Salary Surveys
For Employers
For Job Seekers
#AustraliasFavouriteITRecruiter
Keep up with the latest research
Get an email update each time
we publish a new report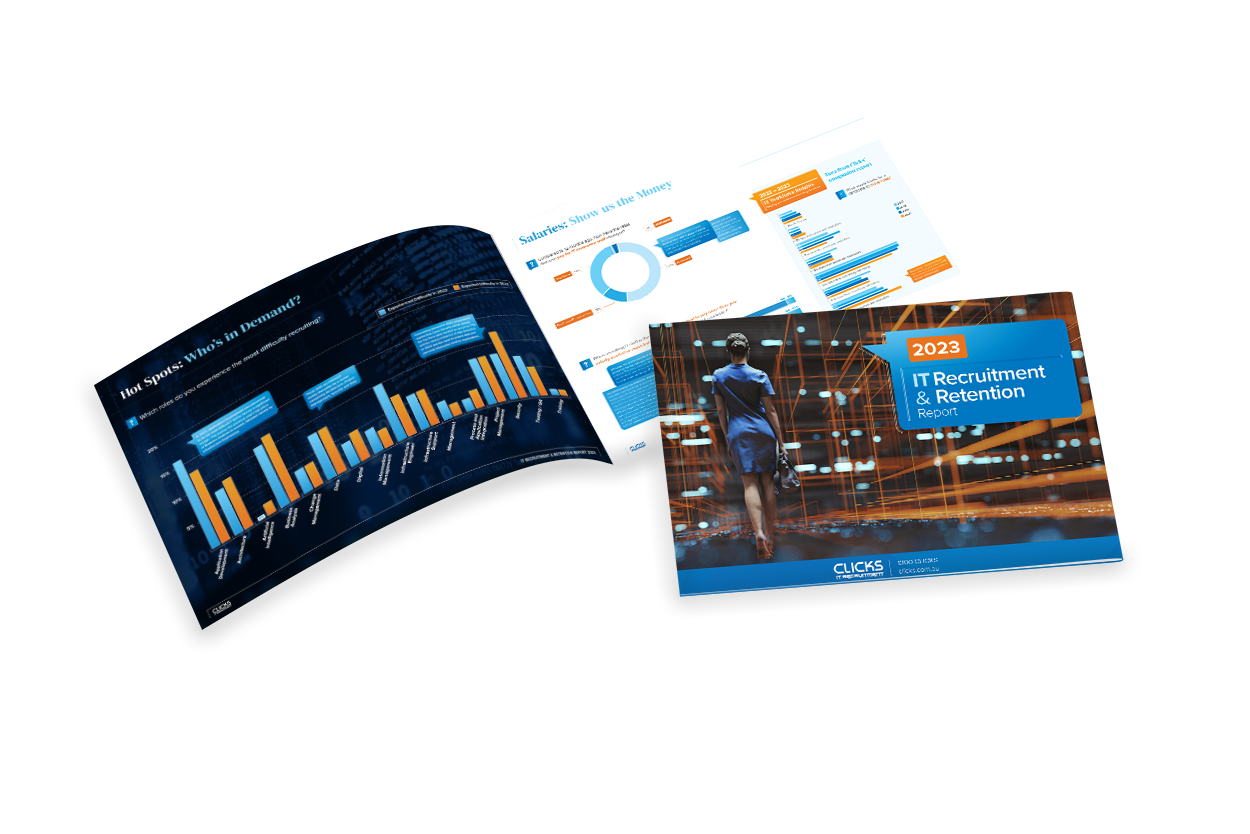 Hiring managers
need to see this
Clicks' flagship research report is the
IT Recruitment & Retention report.
In publication since the 1990s, the report is based on data gathered from hundreds of leading Australian employers. The annual survey covers market conditions, business confidence, hiring intentions, emerging technologies and more in an easy-to-read format.
The 2023 edition is now available.
Do you know what
job seekers want?
When you're hiring, you obviously want great people. The demand for great people can be fierce. So how do you know that you're offering what great people want?
Clicks' IT Workforce Insights report has everything you need to know.
The report, updated annually, shares survey data from thousands of Australian IT professionals. Get definitive insights on how to attract, reward and retain IT talent. Did you know that 50% of IT professionals would move interstate for the right job?
Clicks has produced its fifteenth IT Workforce Insights Report, from over 1,100 individual responses to our survey in July 2022. Get your copy today.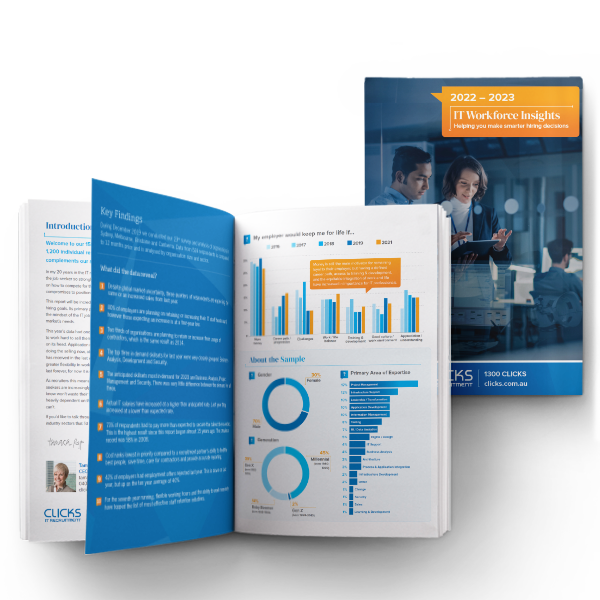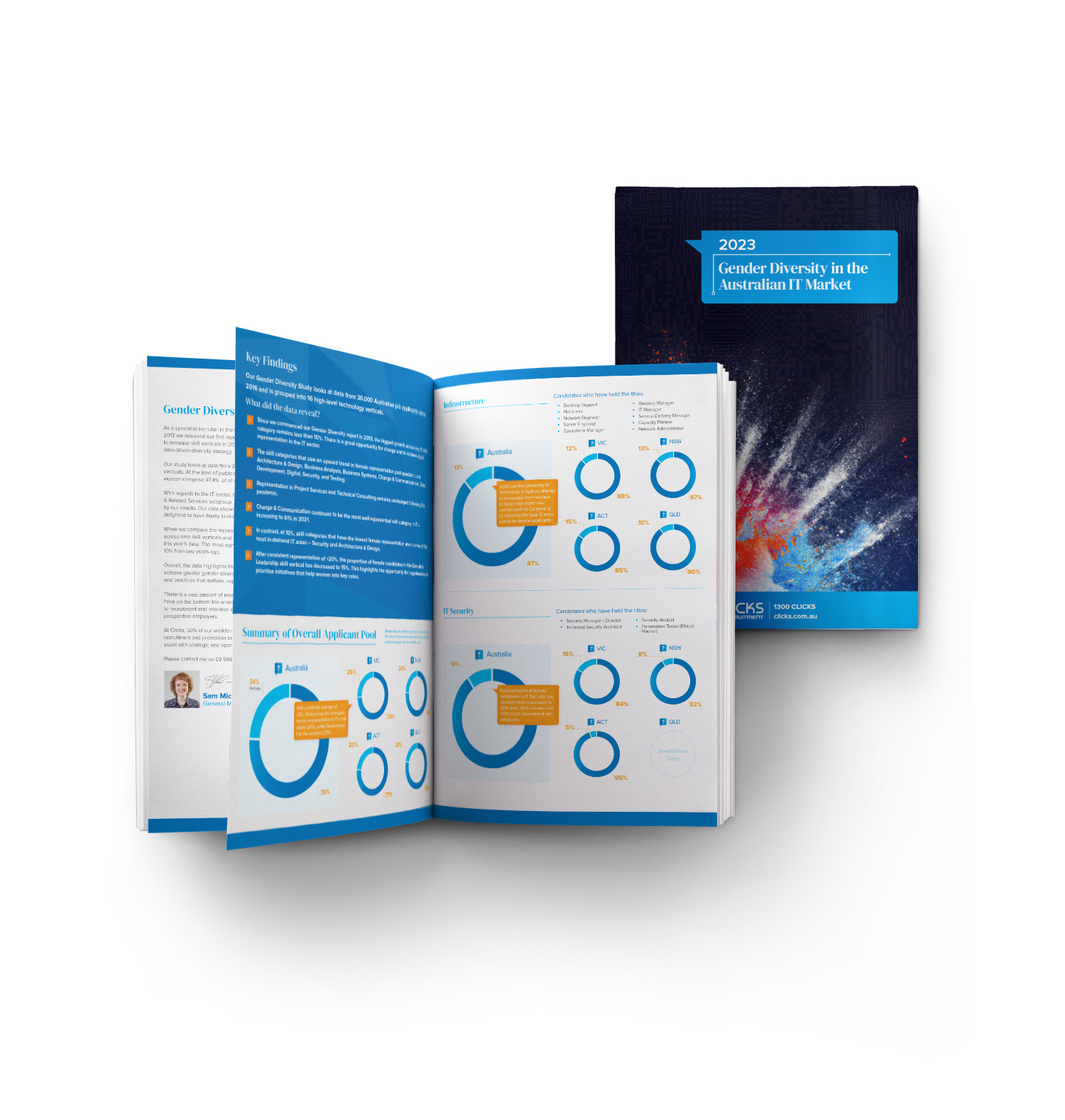 Gender Diversity in the Australian IT Market
As a specialist recruiter in the IT sector for 30 years, Clicks has unique insights into gender diversity trends over the years. In 2013 we released our first report on gender diversity in the Australian IT market. Our study looks at data from 30,000 Australian job applicants over the last 5 years, and is grouped into 16 high-level technology verticals.
Use this report to identify the areas in which you can easily increase the gender diversity of your IT workforce.
Get your copy today – the 2023 edition is now available.
How accurate is the salary data you use?
Introducing Clicks' award-winning Salary Search Tool, an innovative solution that equips job seekers and hiring managers with accurate and up-to-date salary data and daily contract rates for a wide range of IT roles in Australia.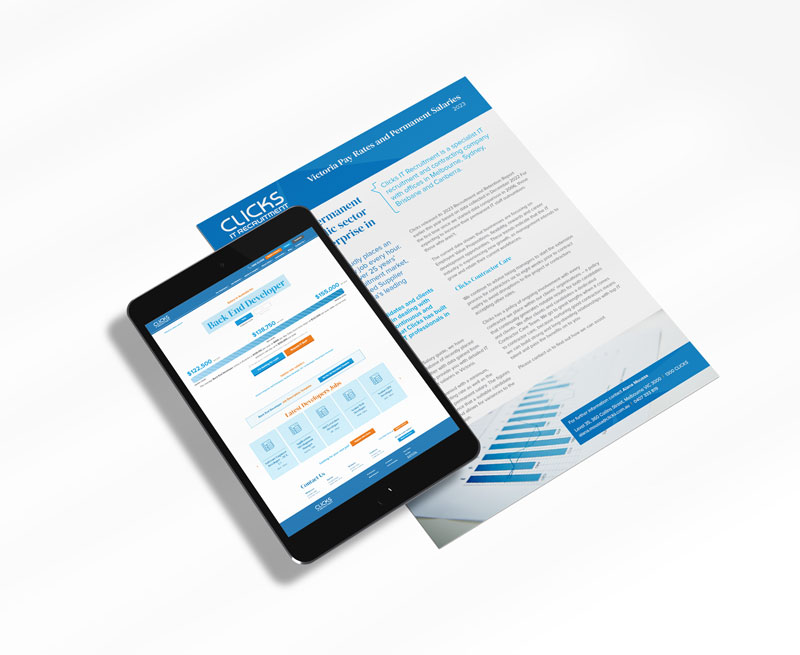 Keep up with the latest research
Get an email update each time
we publish a new report